Do you need Help with Data Analysis for a Dissertation?
If you're looking for dissertation data analysis help, then you are in the right place. Pro-Thesis Writers provides data analysis services on dissertations.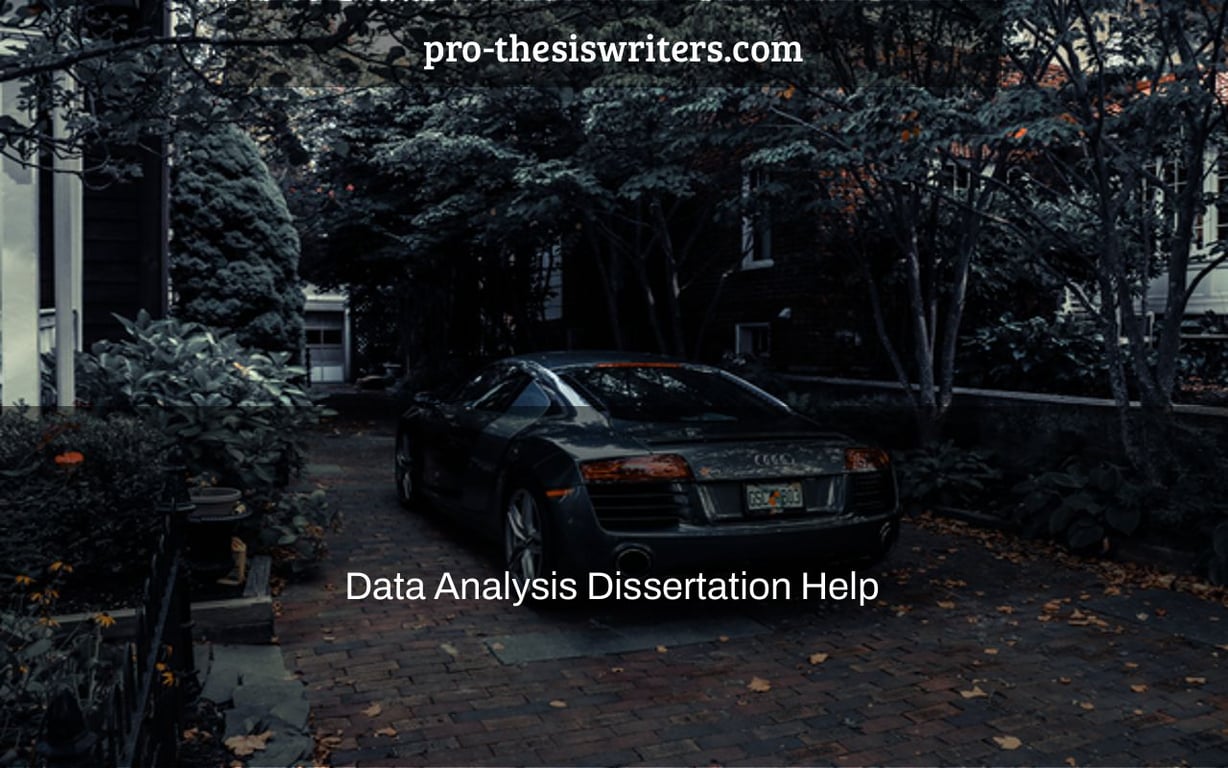 Do you find organizing and gathering material for a convincing data analysis dissertation challenging? All you need is skilled data analysis dissertation assistance. We've been at the forefront of helping students produce flawless data analysis dissertations by providing end-to-end writing services at Pro-Thesis Writers. Our professionals have helped several demotivated and discouraged students create great, high-scoring data analysis dissertations.
Writing a data analysis dissertation necessitates complex methodologies and a comprehensive data analysis structure and plan. You should be able to properly state real-world statistical assessments and assumptions and look into various research problems.
Try our experienced Ph.D. writers and their writing approaches for a precision-based and high-scoring dissertation!
Help with Dissertation Data Analysis
Writing a dissertation data analysis may be a difficult task, particularly for students who are stressed for a time due to tight deadlines. Dissertations need extensive study and are a time-consuming task. It's vital to remember, however, that trying to write a dissertation with minimal preparation will not help you get an above-average grade. You should never pursue a data analysis dissertation half-heartedly and never skimp on quality.
Our team of professionals can assist students unsure where to begin or how to arrange their dissertation. Pro-Thesis Writers provides a results-oriented custom dissertation data analysis service. Here's a rundown of the advantages we can provide:
We Promise Complete Customer SatisfactionWe don't conceal our consumer reviews at Pro-Thesis Writers. You may discover how we've helped thousands of individuals generate flawless papers by visiting our feature-rich dissertation writing website. You'll also see that 99 percent of our customers are happy with our services, which is no surprise given that we provide a money-back guarantee and limitless revisions!
Experts in English as a Native Language (ENL) WritingWe don't employ just anybody to write for us. We have a team of ENL dissertation writers that are highly skilled and devoted. We rigorously evaluated each expert on our panel, and we could employ fluent English authors with advanced credentials thanks to extensive background checks. Our crew does not include any jack-of-all-trades.
We Provide DependabilityOur customer service staff is always available to answer your inquiries and concerns. Our committed writing specialists will begin working on an initial draft and submit it to you for approval when you purchase Ph.D. data analysis and confirm your order. We'll work diligently to finish the final dissertation and submit it to you well before the deadline once you give us your approval on the draft.
Discounts for Returning CustomersOur goal at Pro-Thesis Writers is to build long-term connections with our customers. You can rest assured that we don't overcommit to make a profit. You'll always be greeted with discounts if you're a devoted Pro-Thesis Writers client. We recognize that acquiring the whole dissertation might be pricey, thus we provide substantial discounts on first-time clients.
Whether you need assistance with data analysis themes or want to purchase thesis data analysis online, Pro-Thesis Writers is your one-stop shop.
Pay Someone to Do My Data Analysis for My Dissertation
Pro-Thesis Writers can assist with various dissertation data analysis projects, including essays, difficult research papers, and even a data analysis dissertation proposal. We have professionals specialized in various sectors, regardless of how advanced the degree of study is or the subject you are majoring in. You may feel confident that there will be no hidden costs in any dissertation we write for you and that it will be written to your exact requirements.
As a result, below is a list of the many forms of dissertation analysis assistance that Pro-Thesis Writers provide. We take great satisfaction in providing high-quality service and finishing each assignment ahead of schedule.
Analyze exploratory data (EDA)
Exploratory data analysis entails several crucial steps you must complete to do critical evaluations and analyses on various forms of data, such as finding anomalies, patterns, and hypotheses.
Analysis of Predictive Data (PDA)
Predictive data analysis refers to the use of several methodologies to correctly analyze current patterns in historical facts, allowing for the development of realistic forecasts for future data trends.
Analysis of Inferential Data (IDA)
Inferential data analysis is a research process that entails putting various hypotheses to the test on various topics using data analysis samples from various sources.
Decision trees are a current research approach mostly utilized in data mining and have become a popular strategy for study assessment and analysis.
Analyzing Descriptive Data (DDA)
Creating average and quantile tables, distribution measure assessments, and cross-tabulations are all common features of descriptive data analysis approaches.
Writers for Hire for Dissertation Data Analysis Help
The Pro-Thesis Writers team's main goal is to assist you in creating a dissertation data analysis that will help you improve your academic achievement. We try to provide exceptional services, and our staff of hand-picked authors ensures that each job is completed within the specified time frame. Furthermore, every writer on our team is a seasoned expert with exceptional writing abilities who is readily capable of conquering a variety of research obstacles, giving you peace of mind.
As you can see, writing a dissertation on data analysis is no easy task, and we cannot emphasize enough how important it is for students to prioritize research quality. Get experienced dissertation writing aid from Pro-Thesis Writers and a successful proposal.
Frequently Asked Questions
Can an ENL writer assist me with a data analysis dissertation?
All of our writers at Pro-Thesis Writers have been hand-picked. We do a comprehensive investigation of their writing talents and past. Every dissertation writer on our staff is fluent in English as a native language. Pro-Thesis Writers aims for excellence, and our primary goal is to assist you in writing a winning dissertation.
Is it possible to do a dissertation data analysis in two weeks?
The length of time it takes to complete any project is determined by the number of words to be written and the difficulty of the research. Overall, Pro-Thesis Writers aim to finish each dissertation in the least amount of time feasible.
Is it permissible to hire someone to write a dissertation on data analysis?
Yes. Using research firms to create your dissertation data analysis is lawful. The finished thesis paper becomes your property when you make a purchase and get the whole dissertation.
Do you provide refunds for dissertation data analysis assistance?
Within the first 30 days, we provide our clients unlimited changes on a finished dissertation. However, you must provide vital facts and directions about your dissertation data analysis when you purchase. Pro-Thesis Writers guarantees a complete refund if you are dissatisfied with your dissertation's modifications or quality.